Invest for impact!
Solar irrigation and agronomy for women farmers in horticulture
| | |
| --- | --- |
| Country | Guinea-Bissau |
| Location | Contuboel |
| Asset | Solar water irrigation |
| Start | 2022 |
| Investment | € 200.000 |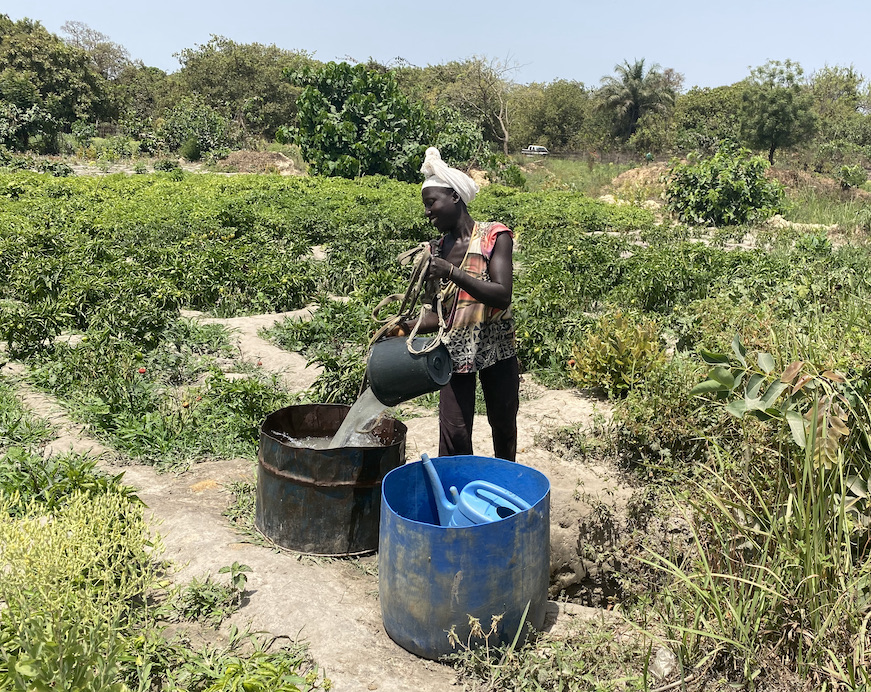 Close to the villages of Contuboel where FRES operates a solar minigrid, over 200 women farmers grow vegetables on small plots for local markets as well as for markets in Gabú and Bissau. Water scarcity is limiting the production of the women. Also the deep wells create dangerous situations and involves heavy manual labor.
A group of women approached the staff of FRES in Contuboel to discuss whether a solar water pumping and irrigation installation could be powered by the minigrid. As the minigrid currently has unused capacity in the daytime this would certainly be a possibility and the investment would only involve extending a electricity line towards the fields where the women work and the pumping and irrigation system itself. .
However, FRES would deliver the solar electricity for water pumping and irrigation against a monthly fee to cover service costs and startup and replacement investments.
In a discussion with the women farmers, they pointed out that they could make the best out of this investment when the introduction of irrigation would be coupled by agronomic advice and guidance to set up a famer-led business structure.
We aim to pilot this with a group of women that take the lead and set the example for others to follow before moving to an investment to reach all women.
In collaboration with Agronomes et Vétérinaires Sans Frontières (AVSF) FRES Guiné-Bissau aims to set up a partnership to introduce solar irrigation for a group of lead farmers in Contuboel.
The pilot project would function as an example for nearby women group to follow. In the meantime market linkages for a larger vegetable or protective foods production will be explored to justify a larger investment in irrigation and other services like solar refrigeration and shared refrigerated transport.